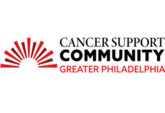 Cancer Support Community Greater Philadelphia
Our mission is to ensure that all people impacted by cancer are empowered by knowledge, strengthened by action, and sustained by community. We provide a comprehensive professional program of social and emotional support and education designed to enhance the mind, body, and spirit of people whose lives have been affected by cancer. All of our programs and services are provided at no cost to our participants (known as our members) so there's never a barrier for anyone who needs cancer support.
So that no one faces cancer alone.