Our Staff
Austin Atteberry
Executive Director, Co-Founder
(Left to Right: Derek Sanders from Mayday Parade,
Austin Atteberry from SMAS, Jeremy Lenzo from Mayday Parade)
Austin hails from the great city of Chicago where he was raised and where he attended school at Northwestern University (06'). After completing his degree, he released a record as a singer-songwriter and was persuaded to move to Music City - Nashville, TN in 2008. A few years into his time in Nashville, a beautiful girl named Sara moved in nextdoor to Austin and changed the course of his life forever. The idea for Sing Me a Story was born in 2011 and started to take shape in May of 2012 after Austin resigned his position at his day job in Nashville. Austin carries an MBA from Pinchot University in Seattle and was married to that beautiful girl nextdoor, Sara, in 2013. They have two dogs (Fat Sam and Coli) and currently reside in the great state of Wisconsin. Austin makes a mean Texas bar-b-que and enjoys the relationships he shares with those he loves the most.
Tom Chester
Program Director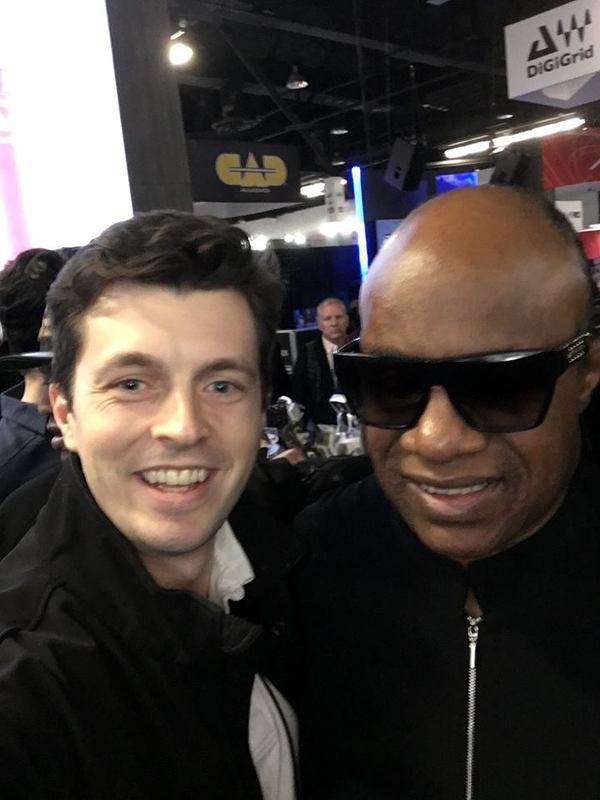 (Tom & his hero Stevie Wonder!)
Tom's passion for working with young people is apparent. His enthusiasm and diverse educational experience make him a great fit for interacting with our partners around the world, the behind-the-scenes work on developing educational and media materials, and overseeing the on-the-ground interactions with the kids.
After graduating from the University of Arkansas with a degree in biology and psychology, Tom went on to earn a Master's in Teaching and teach at the New School, Bentonville High School, and the Carraway Center for Teaching & Learning. After finding some success as a songwriter, Tom and his brother made the move to Nashville, Tennessee, where he crossed paths with Sing Me A Story. It was a perfect fit!

Tom continues to write and record music in Nashville. Most recently, he and his brother released the first-ever interactive album through the new music technology company, Featuring.Me, which has been featured by news sources throughout the country. When he isn't working with kids or playing music, Tom is travelling the globe with his wife, Jordan.


Jessica Phillips
Project Manager

Jess grew up in South Georgia, and is currently in her third (and final) year at the University of Georgia! She is pursuing a degree in Human Development and Family Science, with a certificate in Disability Studies. She plans to go to graduate school to potentially work in rehabilitation therapy. She loves working with kids, and doing things that help bring joy to others - which is why Sing Me a Story is so incredible!
When she's not working (or going to school), Jess attends UGA sporting events, spends endless time at Chick-Fil-A, and volunteers with local children + animal organizations in Athens, Georgia!
Lindsay Smith
Director of Events
(From Left to Right : Axl Rose, Lindsay Smith)
Lindsay brings client and event management skills to the table with sixteen years of experience in the event production and account management world. Her experience with cultivating and nurturing our partner relationships is what makes her skill set most valuable to the team. In addition her years of event planning and execution, and her experience working with and for nonprofit organizations make her a great fit as our Development Director.
After growing up in Chicago, Lindsay attended Columbia College Chicago, and then The Cooking and Hospitality Institute of Chicago shortly after to attain her degrees. Her first round of experience was in the restaurant world working in sales and events in Chicago for 6 years. Lindsay then moved to another Great Lake city, Cleveland Ohio, to tackle a new role in contract food service management, at which point she worked with hospital systems across the country providing consulting services on event management and revenue opportunities. It was during this time that Lindsay found the time to cultivate a growing interest in wine. After just under a year of study, she achieved an advanced certification in the Wine and Spirits Education Trust. Later Lindsay left the road and spent time working with The Cleveland Museum of Art managing their event venue rental program which was an important revenue stream for them as a nonprofit organization. After 8 fantastic years in Cleveland, she has landed in Milwaukee, joining the Sing Me A Story Team to help grow our programs so that one day we can be helping kids in need all around the world!
When Lindsay isn't hard at work she enjoys going to see live music, learning about (and drinking) wine, traveling everywhere and anywhere and spending time with her family.